IMPRI Team
The IMPRI Center for the Study of Finance and Economics (CSFE), IMPRI Impact and Policy Research Institute, New Delhi hosted an interactive panel discussion on the topic "The Amrit Kaal and Union Budget 2023-24" on 2 February 2023, under the IMPRI 3rd Annual Series of Thematic Deliberations and Analysis of Union Budget 2023-24, as part of IMPRI #WebPolicyTalk. The session was chaired and moderated by Prof Nilanjan Banik who is currently serving as a professor at Mahindra University, Hyderabad, and is also a Visiting Consultant at IMPRI.
The session was inaugurated by Ms Tripta Behera, a researcher at IMPRI, who welcomed and gave a brief introduction to the chair and panellists of the discussion. The Panelists for the discussion were Mr TK Arun, who is a Senior Journalist and Columnist based in Delhi, Dr Rajesh Shukla who is currently serving as Managing Director and CEO of People Research on India's Consumer Economy (PRICE) and Dr S P Sharma, who is the Chief Economist at the PHD Chamber of Commerce and industry, New Delhi.
Commencing with the discussion, Prof Banik gave a very holistic view of the budget. The budget this year has seen an increase in capital expenditure, towards building roads, highways, buildings, railways and the like. From the perspective of an economist, such expenditures lead to better connectivity and generate more income as more people get employment.
He spoke about the importance of reducing inequality through the budget as well. India has a huge domestic market that constitutes the bottom 40-50% of the population that we must tap into, in order to increase consumer demand. He also initiated the discussion by talking about the non-utilization of funds allocated through the budget in the previous year which is also an important factor to keep in mind.
This discussion was taken forward by Mr TK Arun, who began the discussion by talking about Demonetisation in 2016 and its impact on the growth rate. Due to the demonetisation of high-value currency notes, the growth in the following year dropped to 6.2%, further dropped to 5.8% and the decline continued to 3.8%. With this backdrop, the pandemic happened. So, we have a lot to recover from. He then spoke about the MGNREGA scheme. The demand for MGNREGA is on the rise due to rural distress. Thus, keeping this in mind, the budget for FY 2023-24 was set. This time, Rs 13.7 lakh Cr have been allocated to capital expenditure.
An important point raised by him was that not all capital expenditure leads to an increase in production capacity. To take an example, repaying back loans counts as capital expenditure but it isn't capacity building in any way. He spoke about the role of demand as well. Between 2008 and 2014, rural demand increased rapidly but not because of rural prosperity, but rather due to a construction boom which raised their wages.
Talking about the fiscal deficit, Mr Arun said that we have been able to increase expenditure by increasing the fiscal deficit. He also mentioned that the worry for a fiscal deficit that is 5.9% of GDP is not a matter of concern as there is no problem of excess demand in the system, rather, there persists a problem of insufficient demand.
This was followed by opening remarks by Dr Rajesh Shukla. He spoke about two main pillars, as mentioned by our finance minister- (i) Inclusive Development and (ii) Reaching the Last Mile. He says that India's middle class is of utmost importance and quotes Aristotle when he says that 'the best political community is formed by the middle class and those states are likely to be well administered in which the middle class is large'.
He says this holds much relevance in a country like India. The middle class is responsible for creating the much-needed discourse in a country. But this class is often measured differently by different organizations. He calls the middle class the cementing agent, which makes a society more inclusive. As of now, 400 million people come under the middle class which is soon to be 700 million. If political and economic reform has the desired effect, we can make use of this massive middle class.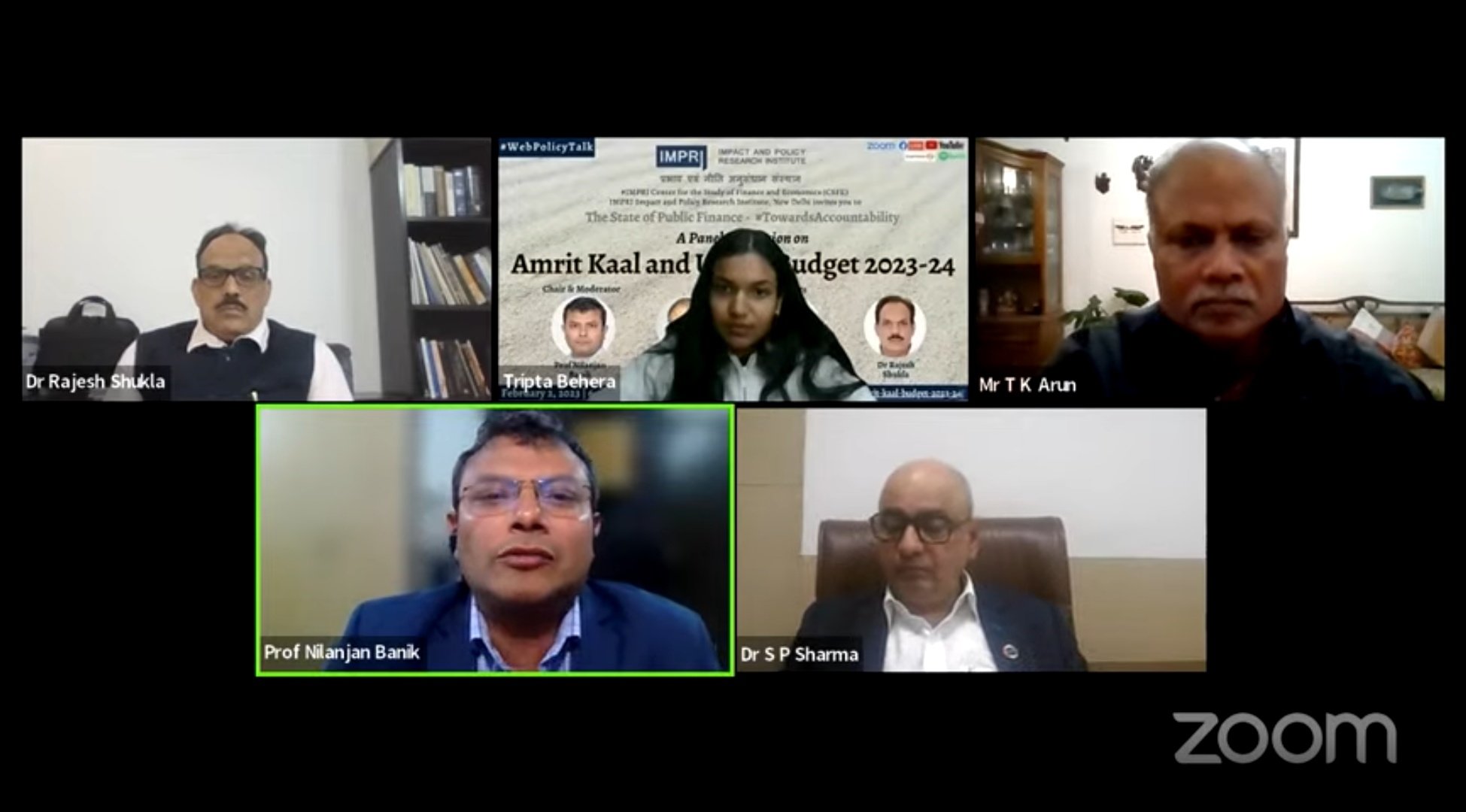 The next panellist, Dr S P Sharma gave us an insight into the industry expectations and suggestions. These include- an adequate PLI fund, enhancement to consumption, more robust ease of doing business, rationalisation of taxes for middle-income groups, reforms for MSMEs and more focus on Primary Health Centres (PHCS). According to him, most of his aspirations were met. In this budget, the government has provided a push to consumption and an increase in capital expenditure.
The main focus of the budget has been: (i) the economic environment for women, (ii) artisans, or Vishwakarmas, (iii) Tourism and (iv) Green Economy. He laid down the "Saptarishi" as mentioned in the budget speech i.e., Inclusive Development: Sabka Sath Sabka Vikas, Reaching the Last Mile, Infrastructure & Investment, Unleashing the Potential, Green Growth, Youth Power, and finally and most importantly boost to the Financial Sector. In terms of where the budget is lacking this time, Dr Sharma said that relief to the middle class in terms of taxation has not been provided.
In addition to that, India's agriculture market is a small proportion of the global market, despite being an agrarian economy. To sum up, he said that increasing consumer demand is vital. A shift from agriculture to manufacturing can only happen if there is a demand for manufactured goods. Thus, investment in agriculture is also crucial.
After a question and answer session, the program was concluded with closing remarks by Prof Nilanjan Banik, who thanked and praised the team at the IMPRI Impact and Policy Research Institute for hosting a successful panel discussion and for ensuring the smooth functioning of the event. The event was concluded with a final vote of thanks by Ms Tripta Behera on behalf of IMPRI Center for the Study of Finance and Economics (CSFE).
Acknowledge: Tripta Behera, a research intern at IMPRI
Youtube Video: Amrit Kaal and Union Budget 2023-24
IMPRI 3rd Annual Series of Thematic Deliberations and Analysis of Union Budget 2023-24 | Feb 2- 7, 2023 | IMPRI #WebPolicyTalk